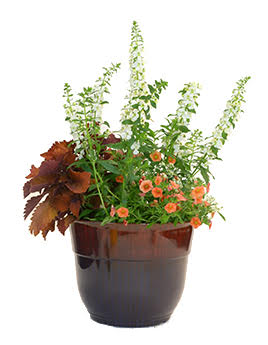 Thrill, Fill & Spill – The Art of Spring and Summer Container Gardening
Container gardening an easy and practical way to add to the beauty of your landscape no matter your gardening experience or space limitations. With just a small patio or balcony, you can grow a lush and attractive garden guaranteed to dazzle.
The art of creating an appealing container garden can be broken down into 3 easy steps – thrill, fill and spill. The idea is to create multiple layers of interest by using different types of plants with similar growing needs in your container. Here's how it works:


1. Thriller
Begin your container garden by selecting a thriller plant. A thriller plant is the eye-catching showpiece of your container garden and should be taller than the other plants. Some late spring and summer thriller plants include Angelonia, Caladium, Cordyline and Dracenea Spike.



2. Filler
A filler plant is exactly what it sounds like. After selecting your thriller plant, add in different filler plants to fill out any remaining space in the container. Filler plants can help add color to your container but should not grow taller than the thriller. Some late spring and summer filler plants include Begonia, New Guinea Impatiens, Lantana, Zinnia and Vinca.



3. Spiller
Spiller refers to the plants that will trail over the edge of your container, softening its edges. Spiller plants add dimension and interest to your container garden and can help complement the thriller and spiller plants. Some late spring and summer spiller plants include Calibrachoa, Petunia, Purslane, Potato Vine, Lysmachia and Alternanthera.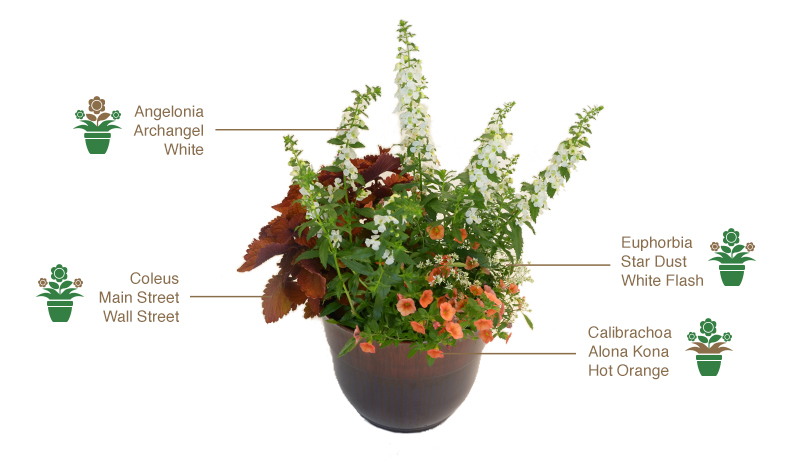 In this container garden, upright Angelonia Archangel White is the star thriller. Delicate Euphoria Star Dust White Flash and thick Coleus Main Street Wall Street both work as fillers, and Calibrachoa Aloha Hot Orange is a bright and cheerful spiller. This layered container garden is a sun-loving, heat-tolerant combination perfect for late spring and summer.
By combining three different types of plants that perform different functions, you can create a visually interesting garden in any amount of space. No matter what plants you choose, remembering to thrill, fill and spill is a recipe for planting a stunning container garden.